Dr. Wai-man Lam & Associates
Dental care for the whole family - since 1997

Monday - Friday: 9:30 am - 7:00 pm
Saturday: 9:00 am - 6:00 pm
Sunday: 10:00 am - 6:00 pm
Copyright © 2013 by Dr. Wai-man Lam & Associates | website by ribeyeweb.com

Bonding is a conservative way to repair slightly chipped, discolored, or crooked teeth. During dental bonding, a white filling is placed onto your tooth to improve its appearance. The filling "bonds" with your teeth, and because it comes in a variety of tooth-colored shades it closely matches the appearance of your natural teeth.
Tooth bonding can also be used for teeth fillings instead of amalgam fillings. Many patients prefer bonding fillings because the white color is much less noticeable than the silver amalgam fillings. Bonding fillings can be used on front and back teeth depending on the location and extent of tooth decay.
Bonding is less expensive than other cosmetic treatments and usually can be completed in one visit to our office. However, bonding can stain and is easier to break than other cosmetic treatments such as porcelain veneers. If it does break or chip, tell your doctor. The bonding can generally be easily patched or repaired in one visit.
If you have missing teeth, it is crucial to replace them. Without all your teeth, chewing and eating can destabilize your bite and cause you discomfort. When teeth are missing, your mouth can shift and even cause your face to look older. Implants are a great way to replace your missing teeth.
An implant is a new tooth made of steel and porcelain that looks just like your natural tooth. Your implant is composed of two parts that mimic a tooth's root and crown. The implant's "root" is a titanium steel rod placed into the jaw bone to act as a root. Once the rod is in place, a porcelain crown is attached to replace the top part of your tooth.
Implants may also be used to anchor dentures, especially lower dentures that tend to shift when you talk or chew. Plus, for patients with removable partial dentures, implants can replace missing teeth so that you have a more natural-looking smile.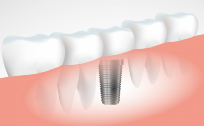 There's no reason to put up with gaps in your teeth or with teeth that are stained, discolored, badly shaped, chipped, or crooked. Today, a veneer placed on top of your teeth can correct nature's mistake or the results of an injury and help you have a beautiful smile. Veneers are a highly popular solution among dental patients because of their lifelike tooth appearance.
Veneers are thin, custom-made shells crafted of tooth-colored materials (such as porcelain) designed to cover the front side of your teeth. To prepare for veneers, your doctor will create a unique model of your teeth. This model is sent to the dental technician to create your veneers. Before placing your new veneer, your doctor will remove a small amount of your tooth to make room for the veneer.
When placed, you'll be pleased to see that veneers look like your natural teeth and even resist staining. Though veneers are stain resistant, your doctor may recommend that you avoid coffee, tea, red wine, and tobacco to maintain the beauty of your veneer.